TALENTI
Talenti history starts in 2004 with Fabrizio Cameli who, after spending some years in the old family marble company, decides to create his own reality in the production of outdoor furniture. He uses his skills acquired in the marble working to create very high quality outdoor furniture in a classical style.
EXTREMIS
Welcome to the world of Extremis! Discover all of our 'Tools for Togetherness' here. We have all the tools you need to relax during a nice warm day or for vibrant garden parties at sunset. Our collection ranges from outdoor sunbeds to break-out furniture and everything in between. We will make sure that you can get the most enjoyment from your garden. So invite some friends, grab a drink and relax.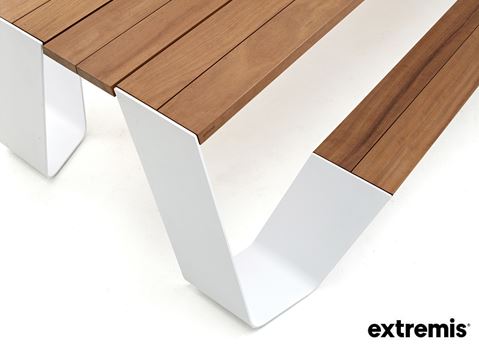 The Hopper picnic table clearly bears resembles to the traditional picnic tables everybody knows, but as is typical of Extremis it offers extra comfort. The four pass through zones make it easy to get in and out of Hopper without having to lift your leg over the bench or disturbing your table-companions.

The Pantagruel round picnic table seats eight people. Because the tabletop is fitted with a Lazy Susan, a central revolving tray, you don't have to ask your table-companions to pass things through any longer.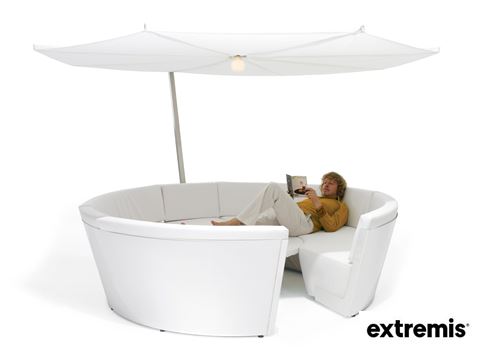 This designer sofa is a clear reference to the world of sailing ships and yachts. The table-seat combination makes efficient use from the space available by combining different functions, such as a sofa, a dining table, light, a parasol, and a daybed (the adjustable table becomes part of the bed). The Kosmos eight-seater is the Swiss knife of the collection, you do not need other furniture when you have this designer sofa.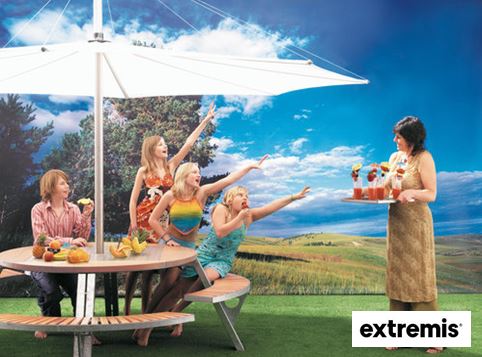 Gargantua is a large round outdoor table that offers superior functionality. Its adjustable benches can be changed in height depending on social or family circumstances. It has levels for adults and small and tall children.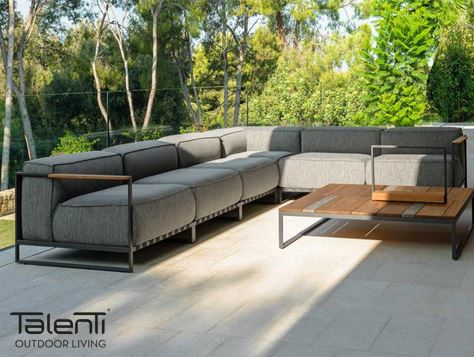 Plain geometries and warming lightning, captivating fabrics and neutral palette.Everything is in its right place. Casilda collection sums up every iconic features of the designer, finding a perfect balance between materials and shapes. A new instant classic has born.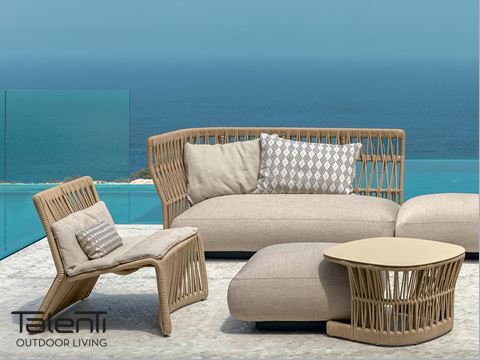 An ideal blend of unusual material matching and the endless pursuit of new ways of expression, Cliff collection is a synonym of great versatility. The details, made with woven nautical ropes and fabrics with geometrical patterns, convey a sense of playfulness with a super glamour touch. The chromatic shades combined with the modularity of the structures allow various shape combinations.
Volumes, shapes, and balance are the key elements of Cleo collection. It is a composition of objects that can be arranged in multiple layouts but always maintaining a sense of calm, elegance and simplicity.
Unique among the Talenti collections, Pad range will satisfy even the most demanding customers thanks to its fabric and the Sky leather. A 100% Made in Italy product, the result of Roberto Serio's class, extraordinary in design, shapes and materials research.